Over previous articles we have explored a lot of the key concepts that make up the theory behind KneoWorld's education program. In this blog, we take a look at a typical lesson and how it supports children's learning and development.
A Scaffolding Approach
Each unit of work is based upon the 'Gradual Release of Responsibility Framework.' It identifies how the child will learn based on the input the teacher offers. This process is not linear, and students can move around, depending on their needs, even on an individual day. The aim is that the child will assume all responsibility for understanding the knowledge, with the teacher observing confidently.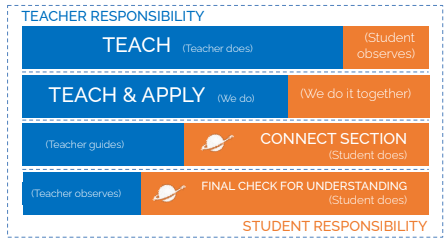 "KneoWorld supports this and intentionally provides a learning environment that allows students to move back and forth between the framework's levels of support as they practice and master the skills and concepts covered in the lessons." KneoWorld Unit 1: Concepts of Print and Print Awareness – Teacher's Guide, page 3.
The teacher begins with a hook that is designed to get the children engaged and ready to learn. Following on from this, the educator will build upon their existing knowledge and teach the unit of work which may involve modeling concepts or demonstrating skills. Once the foundations have been laid and new information offered, children will work alongside their teacher to put these teachings into place or apply their new skills.
This can be through KneoWorld's online platform or a collaborative in-person activity.
As children continue to develop their skills, the student takes more ownership and can be supported by the teacher if they need it. This connect stage is not always an immediate process, but rather a gradual release where students can evaluate what they know and understand by checking in with their educator where necessary.
Finally, the student gains enough confidence in the task or skill to take on all the responsibility, only making a final check for understanding with the teacher observing their success.
All activities and lessons have been aligned with educational standards, which can be found at the top of each unit.
Components of a Unit
For the purposes of this article, we will be using the literacy unit titled, Unit 1: Concepts of Print and Print Awareness, which is all about teaching the basics of printed text and printed text awareness.
Before you begin, you must watch the KneoWorld Educator Video which will take you through everything you need to know about teaching the unit. You will also have access to preview the lessons to see what's in store. Once you are equipped with all this information, you can begin teaching, starting with the unit plan.
Stage 1 – Identify Desired Results
In this section, the learning outcomes and broad areas of learning are noted, including how the teaching will promote cross-curricular competencies and culturally responsive education. It also outlines how the teaching will have knowledge longevity, how to promote thought and inquiry based on open-ended questions, as well as the key knowledge and skills the child will take away from this learning.
Stage 2 – Assessment Evidence
This invites teachers to consider the assessments that will be used in this unit.. A unit-based GRASPS Elements model for a  Performance Task is also provided, making it easy for them to have scaffolded directions and a child-friendly checklist included on the following page. The unit also includes tracker sheets to monitor the progress of students according to the educational standards, and sample discourse prompts to confirm and extend their speaking and listening skills.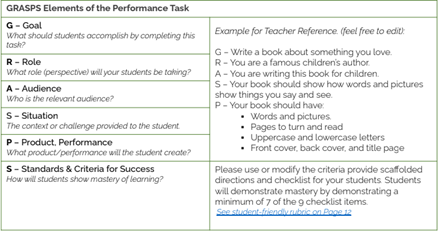 Stage 3 – Learning Plan
Here, each of the weekly lessons is summarized by 'Together We Can' statements and attributed to the educational standards.
Stage 4 – Assess and Reflect
The teacher is invited to review the unit's assessment data and reflect on the learning – what went well and what they could do differently. This supports teachers to develop their teaching practices, including promoting diversity while also honoring each child's identity.
Pre and Post-Assessments
Over the following pages of the unit, there is an outline of the rationale and research that supports assessing a child's knowledge prior to the teaching and after. Of course, this is not presented as a test, but an observational exercise for them to show you what they are able to do. You will then have the data to help inform your teaching methods and ultimately support them to achieve mastery of the skill.
Lesson 1: Soha's Book
At this point, we have all the information we need to begin teaching. The great thing about these lessons is that they are all prepared for you. Each day you will see what you are required to do to ensure the children understand the concepts either via off-screen games and projects, or online stories, challenges, and games. Each lesson includes the components of the Gradual Release of Responsibility Framework, as set out earlier. Early finishers also have the opportunity to explore the KneoWorld Explorers' stories or play brain games. They also make great brain break activities.
This first lesson uses the same easy-to-follow format, starting with the learning objective at the top. Again, it highlights the individual education standards children should know prior (Pre-K), at standard (Kindergarten), and Above Standard (Grade 1). These pages continue to give descriptions and tips on the following: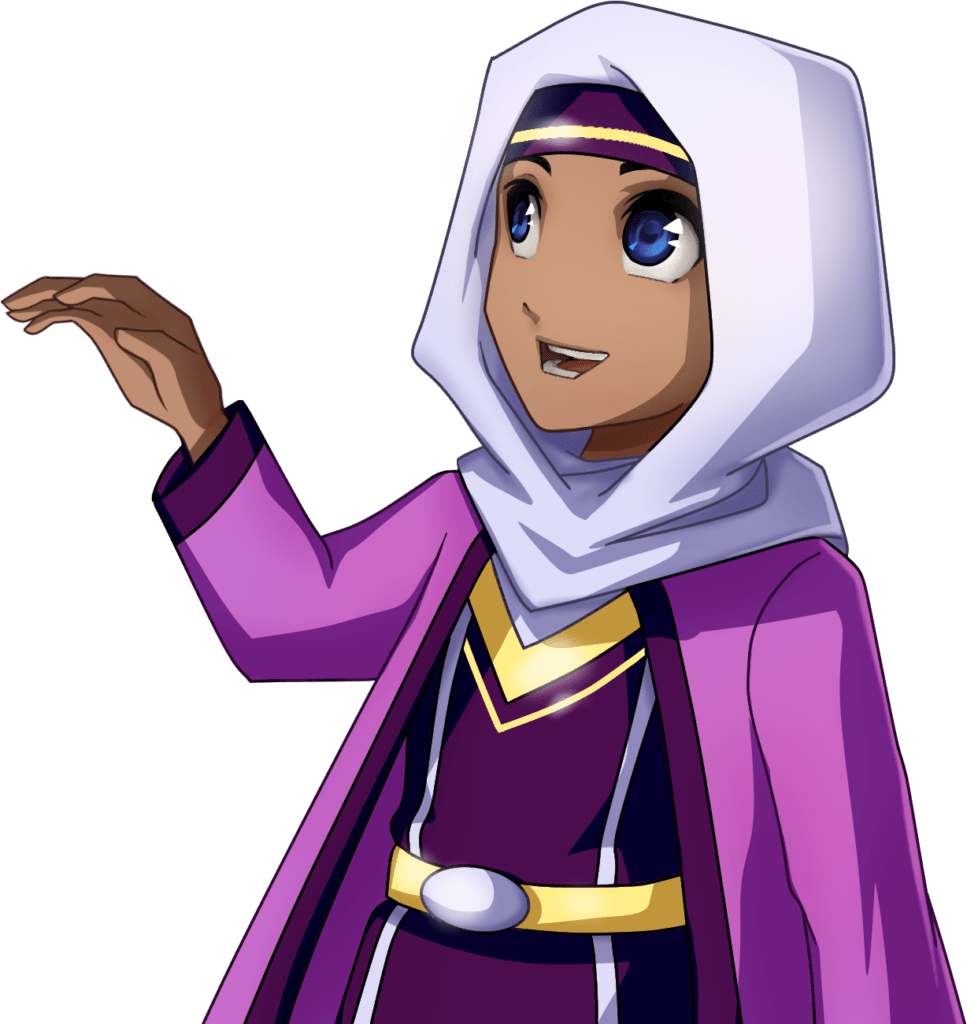 Background Knowledge – What do the children already know about holding a book and printed text..

 

Asset-Based Approach Ideas – What previous experiences with print and print awareness are your students bringing with them to this lesson?

 

Possible Misconceptions to Consider – Explore and understand your and your students' cultural background as it relates to language, print, and print awareness.

 

Deeper Dive into the Concept – words can be spoken or written.

 

Lesson Duration Suggestion – based on age and ability attention span.
The lesson plan itself then begins with key vocabulary and materials the teacher may need. It then travels along the Gradual Release of Responsibility Framework offering different engaging online and offline activities to keep children engaged and learning.
There is then a section that provides suggestions for differentiation, taking into consideration varying abilities, the pace of work, and whether they are multilingual. The lesson concludes with some pictures of resources that can be laminated and used as flashcards or as a self-assessment tool.
Each of the subsequent 7 lessons is set out in the exact same way.
Assessments – Post Test
The test after all eight lessons have been completed is the same as the one given at the beginning. You will then be able to compare their progress over the time period, enabling you to scaffold or clarify any additional learning that may be required.
Teacher's References and Resources
At the very end, there is a page dedicated to providing innovative teaching resources that you may find useful in supporting the teaching of this unit. You will also see some academic references including books and journal articles where you can continue to explore the theories behind teaching these concepts.
For more information about KneoWorld's units of teaching, click here.